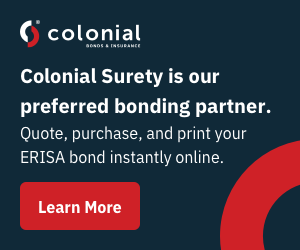 The U.S. Department of Labor website states:
Section 412 of ERISA requires all persons, including fiduciaries, who handle funds or other property of an employee benefit plan (otherwise referred to as plan officials) to be bonded in accordance with section 412 and the department's regulations unless they are covered by an exemption.
Each plan official is required to be bonded for at least 10% of the amount he or she handles, but in no event less than $1,000.
The maximum bond amount required under section 412 with regard to any one plan is $500,000 per plan official, or
$1 million per plan official in the case of a plan that holds employer securities.
An ERISA fidelity bond is a form of insurance that protects a 401(k) plan from losses caused by acts of fraud or dishonesty (such as theft, forgery or embezzlement) by "plan officials" (see first paragraph above).
Click the red button above to learn more about Colonial Surety's fidelity bond products, or contact Kathy Tompkins to discuss fidelity bonds in general.